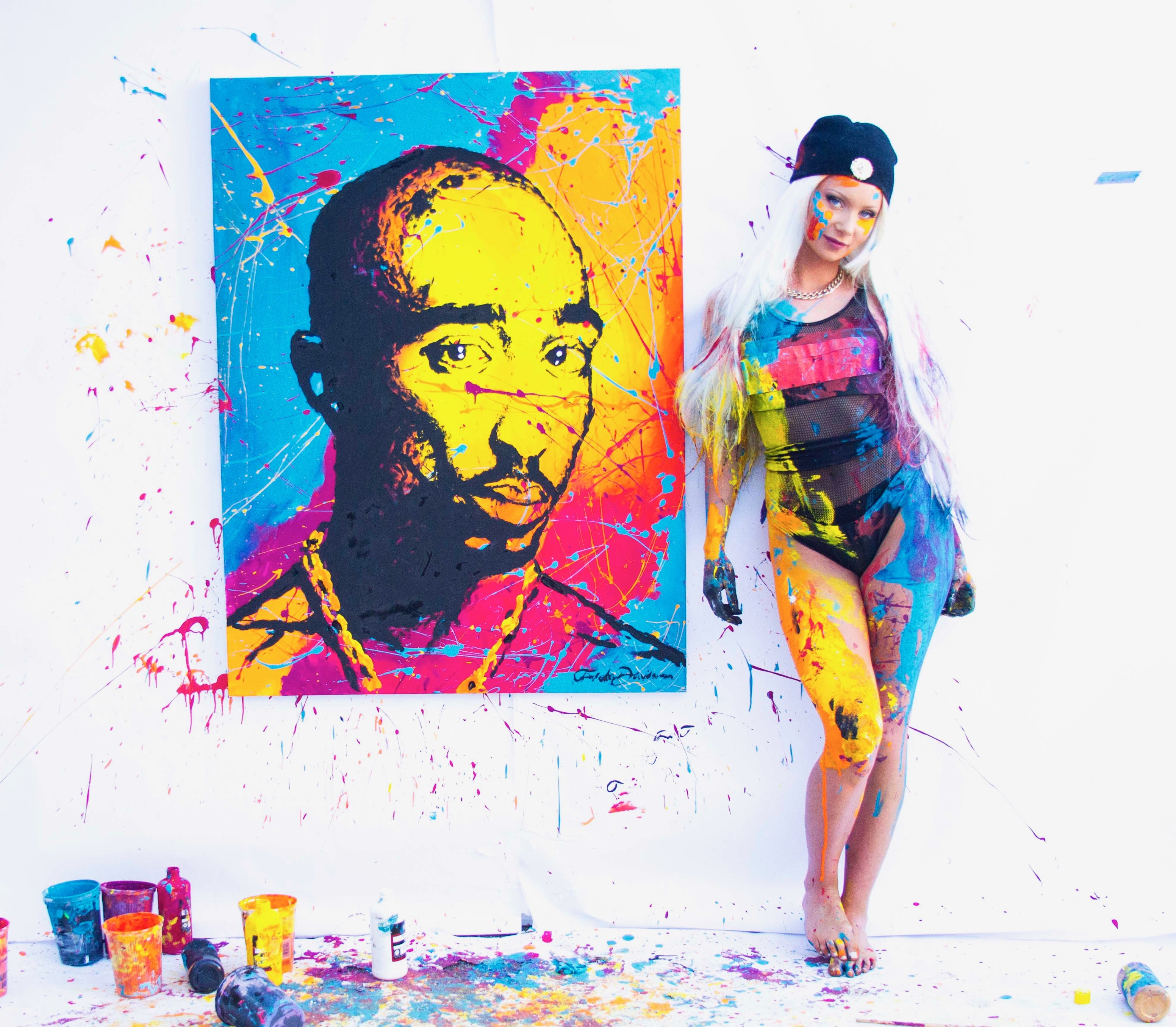 20 Mar
Paint Like Frida Davidsson
Mr Dreamz magazine interview
Los Angeles, February 23, 7pm, Mr Dreamz magazine x Frida Davidsson
BACK 2 THE DAYS…
I've always had an eye for drawing ever since I was a little kid. Although the first time I actually painted with brushes was about three years ago when I moved from Sweden to Los Angeles and started to develop my painting skills and learned about the different mediums and techniques.
POSED PORTRAIT Vs LIVE PAINTING…
One of the main differences about painting with brushes compared to painting with my body in front of an audience is the feeling about it. Painting live makes me feel more alive and aware, it's more enjoyable. Sitting in my studio by myself painting a portrait with brushes is more technical, focused and controlled. Although since I'm such a perfectionist when it comes to my art, I'm usually more satisfied with the result when I've spent more than 20 hours on a painting, compared to when I paint live and finishing a piece within two hours. The first time I painted in front of an audience I was very nervous and I had no idea if they were even going to watch me or ignore me, but it was a success! Having the audience watching the process makes me feel connected to not only the painting, but to the whole environment and the audience.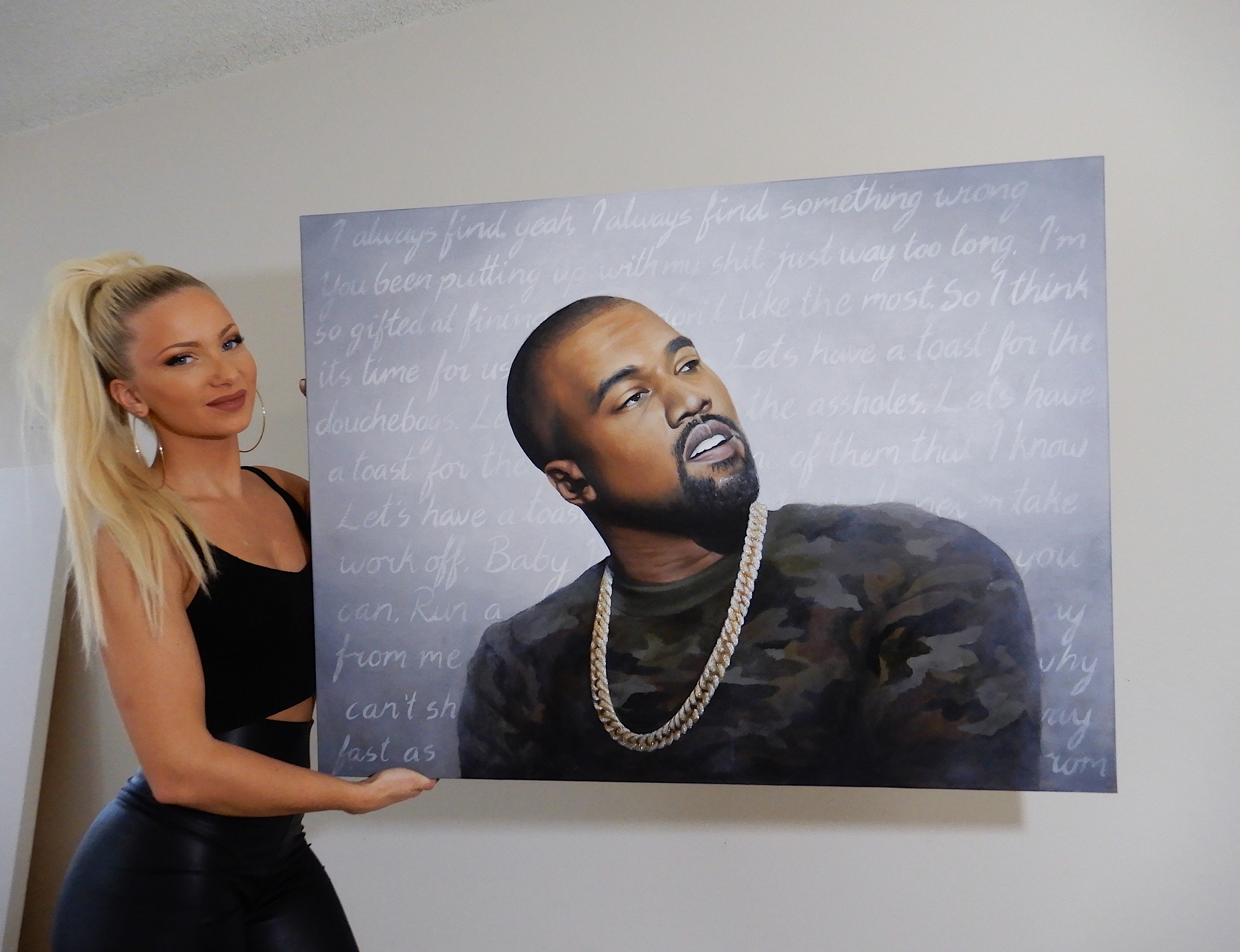 BODY ART…
I always felt a need to spread a positive message with my art. My subject matters used to be about spirituality, questioning who we are, being in the present moment, positive energy, etc. Instead of painting about it, I wanted to incorporate my whole mind body and soul into it by painting with my body. I believe the purpose of existence is to enjoy life to its fullest, have fun, be in the present moment and don't take like too serious, so that's what I'm doing. Painting with my body allows me to let go of control, allow accidents to happen and it puts me in a trance state of mind with a strong feeling of freedom. I believe that everything in this universe is interconnected, and the human body is a piece of art by itself, painting with my body makes me feel strongly connected to my art and I become a part of the actual artwork. The fact that I'm covered in paint makes me feel untouchable, and instead of hiding who I am, I embrace and take back the control my female body that has been stolen and objectified by society.
COMPETITION…
When they contacted me and wanted me to compete in art battle I was very skeptical at first. I don't think that art should be something where people compete with each other. I saw it more so of a practice for me to get comfortable with painting live in front of a big audience. Even though the fact that we only had 20 minutes to finish the piece was a stressful thought. I love to challenge myself so I did it and I did not expect me to be the winner. I just saw it as a fun experimental experience. I'm very self-critical and the fact that I won and got so much positive feedback from the audience boozed my self confident, so I'm very glad that I did it, it was very stimulating!
YOUR COLOR…
Yes! To me, art is everywhere. Sometimes when I'm in the creative mode I can observe a rock and see all types of shapes and forms creating patterns of faces, animals, flowers, etc. It's all in the perspective of the reciever. The whole world to me is a beautiful created piece of art. I used to be the color turquoise, but now I feel more of a purple/violet type of color.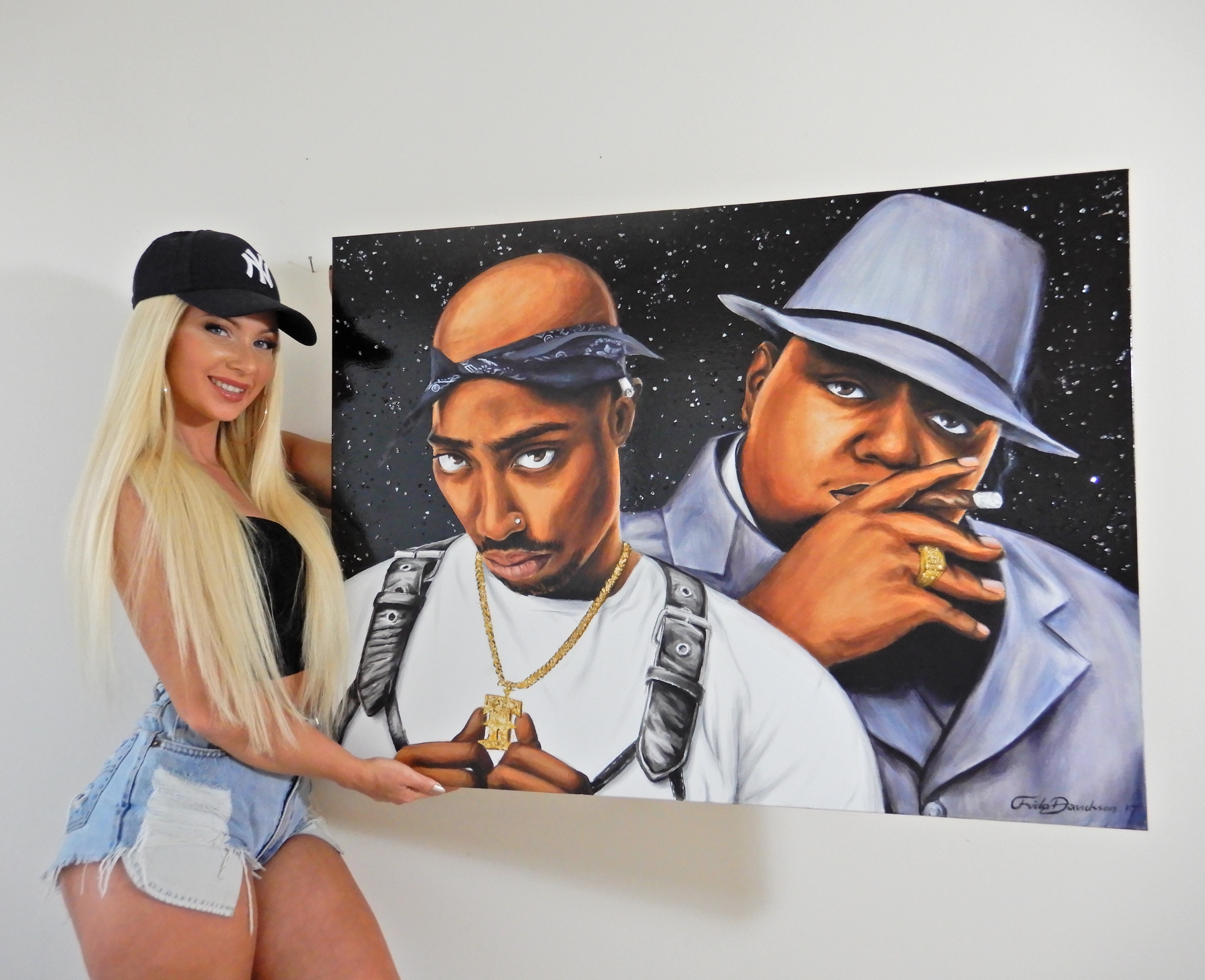 FAVORITE…
Painting with my body in front of an audience is my favorite way of working at the moment! It gives me the freedom to experiment with new techniques and expressions.
FUTURE…
I'm very spontaneous, I haven't set any dates yet for any future performances or exhibitions quite yet. I might perform at the Ultra Music festival 20th anniversary in Miami in March. I'm also planning a solo exhibition here in LA sometime next spring. Until then, I'm working on a lot of cool videos where I'm painting with my body in different ways. I will also start incorporate pop and locking dance into my paintings. I have about 30 ideas right now that I'm planning in my head and I'm very excited about the future!
Get connected with Frida! Instagram @fridadavidssonart
Do you want to read more? GO DIGITAL!